The Frank Scully "Crashed Saucer at Aztec" Hoax (1950)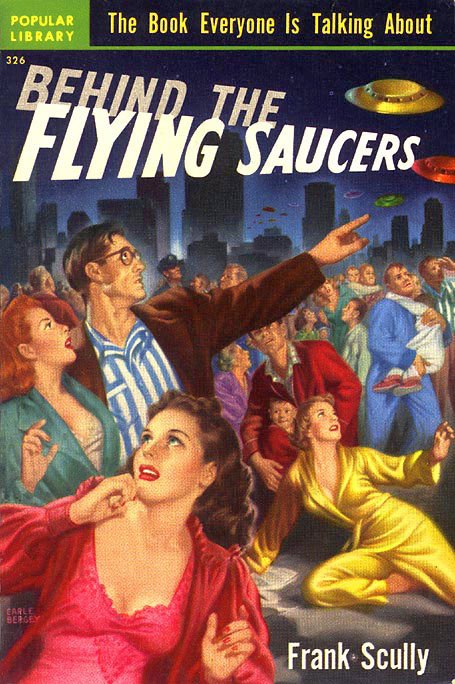 .
In 1950, Frank Scully's book Behind the Flying Saucers was published. It was the first to claim that a saucer had been recovered by the U. S. government. You can read it as an E-book here.
From my book, UFO Sightings:

"The crashed-saucer stories first began to circulate in 1950, when a mysterious figure delivered a lecture to an undergraduate science class at the University of Denver. He regaled his audience with tales of a crashed saucer that reportedly had been examined in minute detail by U.S. officials. Theatrical writer Frank Scully very quickly put together a book on the incident titled Behind the Flying Saucers, creating a nationwide sensation. In the Scully book, we read that government scientists have learned that saucers utilize "magnetic" propulsion and derive their energy from following "magnetic lines of force" (an absurdity, say physicists), and that all of the saucer's dimensions were evenlyly divisible by nine (but apparently only when measured by the English system of inches, feet, and yards). The bodies of the craft's occupant, looking very much like earthly midgets, were said to have been dressed in 1890-style clothing. Scully identified the anonymous lecturer as Silas M. Newton, a supposed oil millionaire, and Newton's mysterious "scientific" source, "Dr. Gee," who was later identified as Leo A. Gebauer. Both Newton and GeBauer were indicted two years later for a scheme in which they allegedly tried to swindle an unsuspecting investor into buying a worthless device for "detecting oil."' Journalist J. P. Cahn, whose investigations exposed the swindles of Newton and Gebauer, explained to me much later that the purpose of the UFO fable was to expand their "sucker list." When credulous letters sent to Scully and forwarded to Newton and GeBauer suggested that the sender had money, the latter would contact the sender to regale him with stories of saucer crashes - and of fantastic new devices for discovering oil."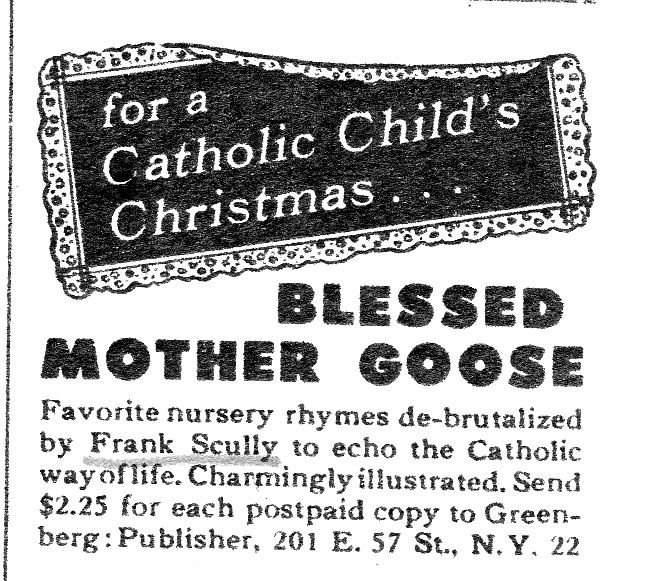 I got this clipping (right) from J.P. Cahn, I don't know its origin. Scully was a devout Catholic. Paul Kimball gives us a very interesting and insightful look at Scully's career and reputation.
Browse official government records containing "the FBI's investigations into Newton's fraudulent activities between 1951 and 1970." According to the FBI, "Silas Newton (1887-1972) was a wealthy oil producer and con-man who claimed that he had a gadget that could detect minerals and oil." Newton's first arrest was as far back as 1931.
A very unusual story about Silas Newton's brief marriage in 1939. A red-hot lover apparently he was not!

Newspaperman J.P. Cahn (1919-2004) Unravels the Scully/Newton/Gebauer Hoax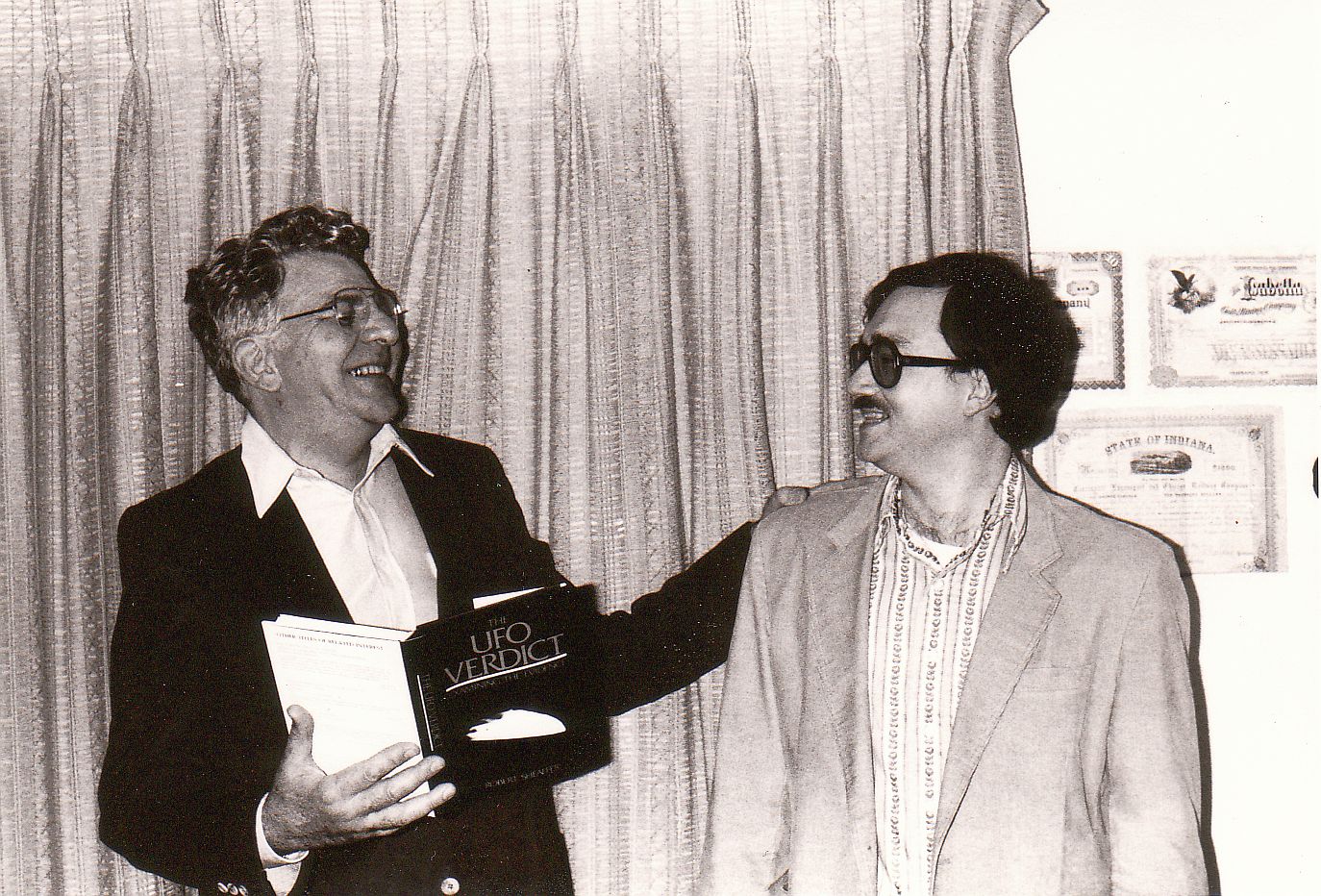 J. P. Cahn (left) with Robert Sheaffer, 1984.
Cahn's original article in
True
Magazine, Sept., 1952:
The Flying Saucers and the Mysterious Little Men
.
The editor [signed as k.w.p.] explained in that issue, "TRUE never believed Mr Scully. We had many conversations with Mr. Scully about the matter before he began to write his book. When he offered "material proof" we sent a correspondant [Cahn] to his home in California to see it. This gentleman was less than awestruck by what he was shown. Finally, convinced that Mr. Scully was talking nonsense, we offered him a flat $25,000 for proof of his story. We never heard from him again. In due course his book appeared and it was a best seller."
Cahn never blamed Scully personally for perpetrating the hoax. He always held open the possibility that Scully was the innocent victim of a hoax masterminded by Silas Newton. Based on my knowledge of the case, I think that Scully knew that what Newton and GeBauer were saying was very, very dubious. But he knew enough about journalism and publishing to pretend to believe it.
The following audio is a talk given by J.P. Cahn to the Bay Area Skeptics in Campbell, California, February 14, 1984. So far as is known, this is the only recording of Cahn speaking about his research into the Saucer Crash Hoax. He was a very entertaining speaker. (My voice is also heard, introducing Cahn in the first part, and also presenting some info on other claimed "UFO crashes" before the Q&A in the second part). About 38 mins into the second part, Cahn relates how he was contacted by UFOlogist William L. Moore, who was one of the first promoters of the Roswell Crashed Saucer story. Moore phoned his house and introduced himself on the telephone. Moore said "I'm an investigative reporter, and I've been looking for you for three years." Cahn questioned Moore's investigative skills, saying "you'd think he'd pick up a phone book," because Cahn had always been listed in the San Francisco White Pages.
Cahn Talk Part 1 46 minutes
Cahn Talk Part 2 45 minutes
A brief biography of J.P. Cahn, with emphasis on his "Old West" stories
(scroll down to "Cahn").

Cahn's obituary in the San Francisco Chronicle
.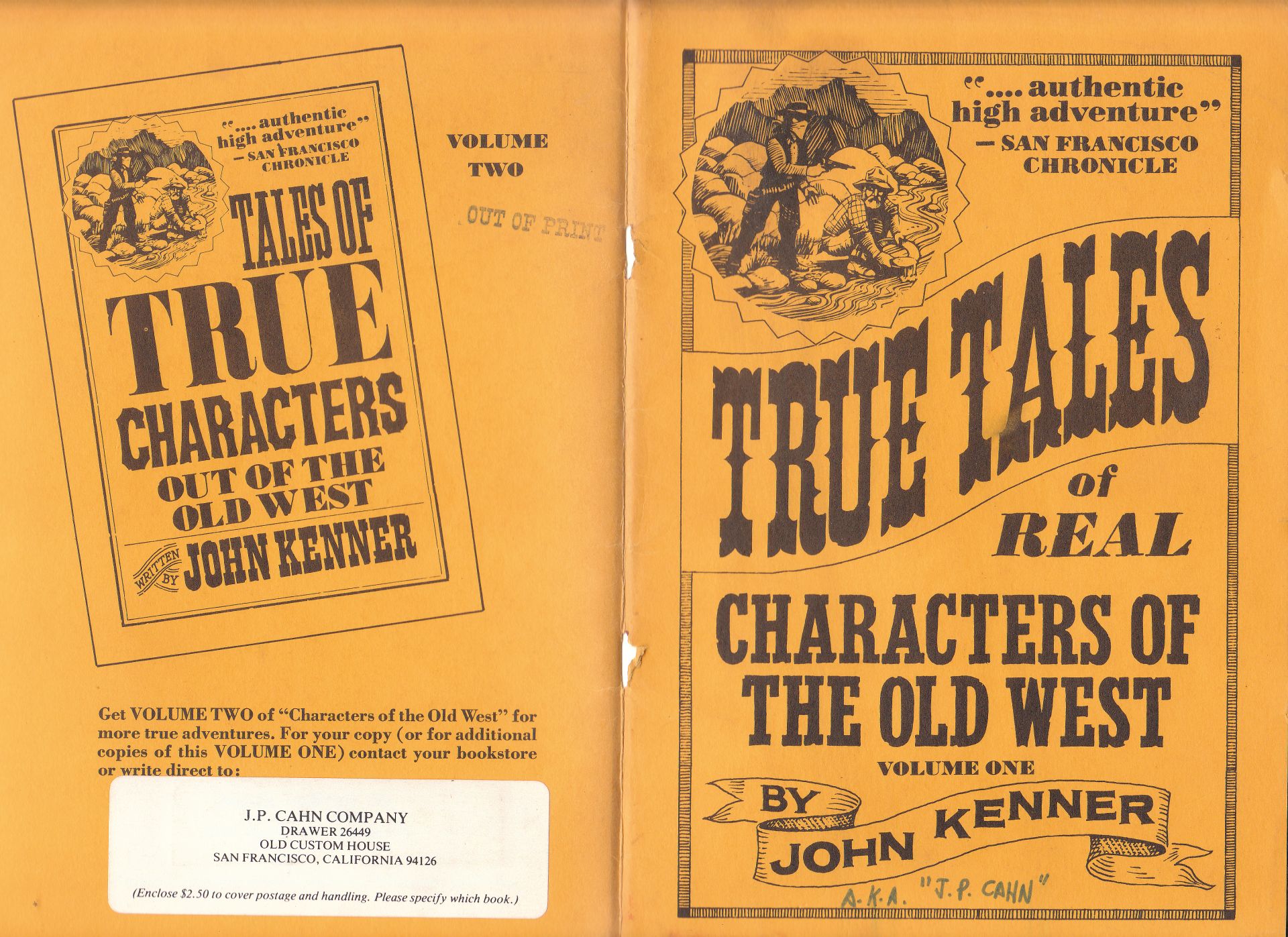 Cahn gave me a book of his "Old West" stories.

Nonetheless, the "Aztec UFO Crash" Lives On!
The annual Aztec UFO Symposium, which operated from 1998-2011.
A new book: The Aztec Incident Recovery at Hart Canyon by Scott and Suzanne Ramsey, tries to bring the crash story back from the dead.
Read my review of that book.
Roswell proponent Kevin Randle isn't buying it. Neither is Jerome Clark, who typically believes almost anything.
The New Mexicans for Science and Reason's page on the "Aztec NM UFO Scam."
The New Mexicans for Science and Reason's page on the Guy Hotter UFO Crash Memo of 1950, derived from the Silas Newton's claims abut the supposed "Aztec Crash."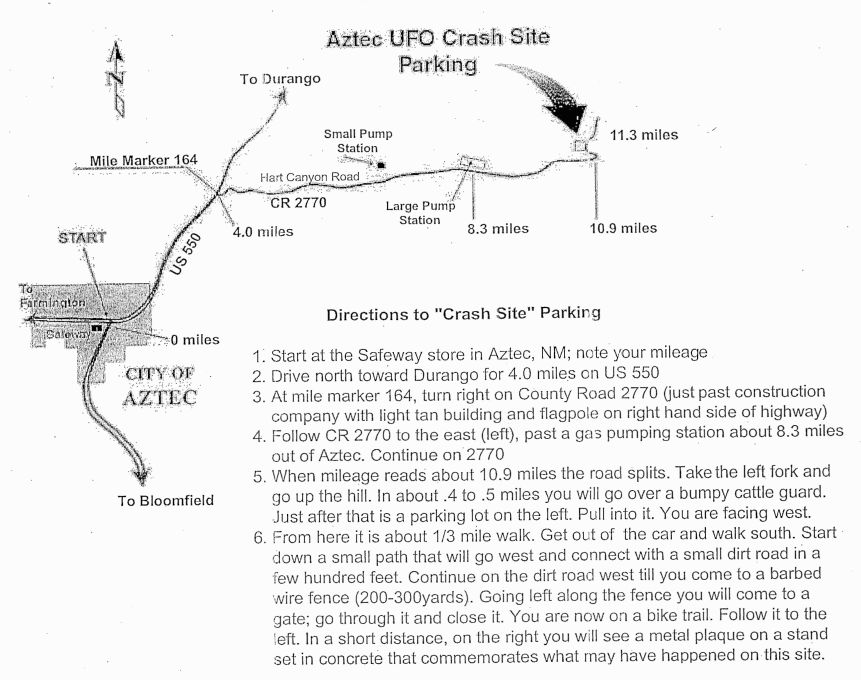 The UFO Skeptic's Page